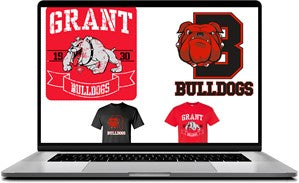 Have you ever wondered why sports teams wear custom team uniforms? Athletes are known mostly for their talents so does putting on a piece of custom garment really make a difference? Yes, it does! 
As spectators, we can see that custom t-shirts and uniforms for sports teams can vividly distinguish teams from their opponents. As a matter of fact, the main objective of having custom team uniforms is the identification of team members on the court or field. If all members were wearing the same uniforms or no uniforms at all, imagine the confusion it would create!
Other than identification, sports teams adorn custom uniforms for several reasons. We will look at these reasons in this blog.
Why Do Sports Teams Opt for Custom T-Shirts?
1. To Increase Recognition
Custom t-shirts and uniforms for sports teams make it easier to get recognition, build a fan base, and garner support. Custom designs give your fans and supporters a set of colors they know will symbolize your team. Hence, they can show their support for your team by wearing your team colors. When people start walking around with your custom t-shirts on, your sports team will get noticed. So if you have any upcoming tournament or big showdown, you can use apparel as an opportunity to spread the word about it!
There is also a tremendous opportunity for merchandising with custom t-shirts. Custom t-shirts and other merchandise can help promote your team. So if you're looking to build up a fan base, creating merchandise with the team logo can be a great place to start. You can create t-shirts in team logos and colors and sell them to fans to raise money for sporting trips, training programs, new equipment, etc.
2. To Display Team Unity
When everyone on a team wears the same uniform or custom t-shirt, it automatically makes them feel that they are all striving to achieve a common goal rather than trying to achieve personal greatness. People who wear the same color t-shirts with the same logo or design immediately feel like they are a part of something larger than themselves. They can see the bigger picture and strive towards achieving common team goals. A custom sports uniform also encourages team pride and displays a powerful sense of unity. It also fosters equality among players and coaches, so the focus lies only on the team's success.
3. To Encourage Team Spirit
Wearing the same t-shirts with the team name encourages team spirit. Nothing says "We are a team!" more than custom t-shirts and uniforms. They are simple, cost-effective, and a great way to promote team spirit both on and off the field. Custom t-shirts and uniforms for sports teams can instantly instill a heavy dose of team spirit in all team members and make them feel connected to one another. They instill a sense of belonging to a group.
4. To Increase Sponsorship Opportunities
Sponsorships are crucial for sports teams as they provide funding and support. Custom t-shirts and Uniforms in Illinois can give you the chance to show off your sponsors, increase brand visibility for them, and in return, get the funding and support that you need. When you pitch to sponsors, don't forget to talk about all the clever ways to incorporate branding for them. This will increase your chances of receiving proper funding and support.
The Best Custom T-Shirts and Uniforms in Illinois from ArtRageous
ArtRageous Apparel is your one-stop-shop for custom t-shirts and uniforms in Illinois. We create logos and t-shirts and uniforms for sports teams and can print them on your choice of garments as per your liking. Get in touch with us today by calling us at (847) 986-6212. You can also visit our office at 1860 N IL Rte 83, Suite 123, Grayslake, IL 60030, or contact us via our website to know more about our services.