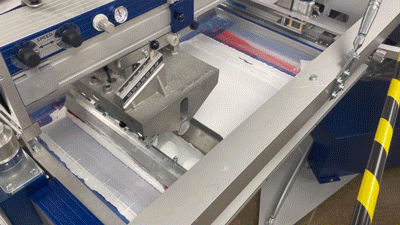 If you are thinking of getting t-shirts printed for your brand, you will find that companies offer a variety of printing methods. Some companies stick to one method while others have a few available. In any case, you will need to understand what each one entails so you can make a choice that's best suited to your needs.
This article will review the various types of t-shirt printing options so you can make the right decision when you order your shirts.
Screen Printing
Also known as silkscreen, screen printing is the most popular t-shirt printing method. It involves using a nylon mesh that holds the stencil in place and waterproof material that keeps the negative space on your item from becoming damaged.
The ink is spread across the screen using a squeegee. Then the screen is removed, and the item is left to dry and cure.
Screen printing is one of the oldest methods used to print t-shirt, but it is still among the most popular because it produces vibrant, long-lasting designs for large orders.
Direct to Garments (DTG)
Direct to Garment printing is another popular t-shirt printing method. It works something like a paper printer in an office but instead of loading paper to the printer, you load the t-shirts.
The information is transferred in the form of a design that's input to a computer and sent to the printer. After pretreating the shirt, the printer then is able to lay down the ink. This method allows 1 shirt to be possible.
DTG is a great solution for highly detailed artwork as it picks up small details with a high degree of accuracy.
Heat Press Printing
Heat press printing is an ideal solution if you are doing one-off pieces or small batches. It requires using transfer paper to make the designs. The designs are then transferred to the t-shirt using heat and pressure.
In most instances, vinyl is used as the transfer paper. It will have an adhesive material on one side and strippable tape on the other.
After the design has been printed out and pressed to the t-shirt, you hold the tape and strip the paper off leaving only the design.
Dye Sublimation
Dye sublimation is an ideal method for printing t-shirts with a huge design that spreads across its front or back. It is a more expensive as compared to other processes, but it produces clear, high-resolution results.
The method requires using a special dye that dries and solidifies when it comes into contact with polyester. It is for that reason what you will want to use polyester tees for dye sublimation. Other materials will not produce the desired outcome.
The dye sinks into the material using heat and pressure making for a vibrant and long-lasting design.
If you are having t-shirts printed, it's important to be familiar with the various printing options. That way you can be sure your merchandise comes out looking its best. Which of these do you feel are suited to your needs?