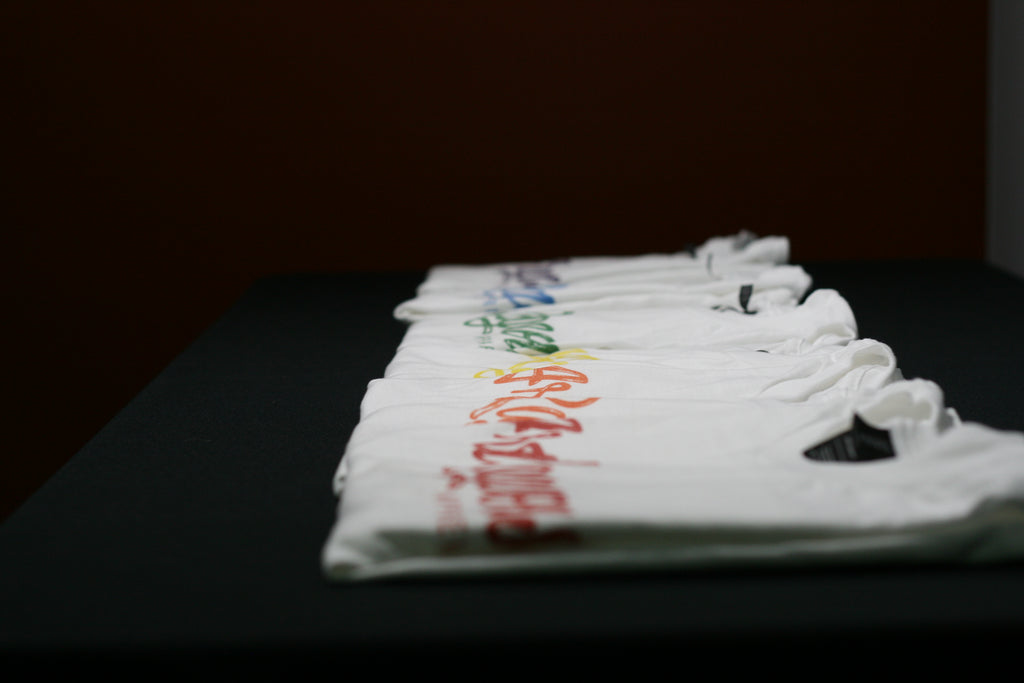 New business launch. Sports team meet and greet. A loved one's bachelorette.
These are a few of the many reasons people start designing and printing custom t-shirts. Regardless of the reason, custom-made t-shirts make people stand out amongst the crowd and are a great souvenir to remember an event. In this blog, we will look at four ways to design custom t-shirts and print them so you can get the results you desire.
Let's begin.
4 Simple and Affordable Ways to Design Custom T-Shirts and Print Them
The first step is obviously to create a design that you want to be printed on the t-shirts. You can hire a graphic designer to do the job for you or even design one on your own. Once you have the design, you should consider multiple ways to print it on a t-shirt. Here are 4 ways to print custom t-shirts:
1. Direct-to-Garment (DTG) Printing
DTG printing is a relatively new advancement in fabric printing. It allows you to utilize inkjet printing but prints designs directly on fabric. The process is highly customizable and can print designs with the most incredible details and extensive colors. The process is ideal for printing t-shirts in small batches or designs with multiple colors. If you want to print in bulk, it might be that DTG is still the right option, but you may want to consider some other printing styles as well. A downside of using this method is that it does not work well on Apparel that is not 100% cotton, so if you want 100% polyester, moisture wicking, or blends, skip ahead!
2. Screen Printing
Screen printing is perhaps the most common method used to print custom t-shirts. In this method, a printer makes original screens of your design (one for each color), so you can print in bulk. It is a reliable standard for printing. It is also quite affordable and provides high-quality prints. If you have an order of more than 50 t-shirts, screen printing might be your best choice. However, a disadvantage of using this method is that a new screen is required for every new color or design revision which can get quite costly for colorful designs or if you're in need of youth and adult t-shirt sizes .
3. Embroidery
This is the second most common way to design custom t-shirts. Embroidery is used to create a more professional look. This method is mainly done on ballcaps, polos, backpacks, etc. You pay by the stich so it works best with simple designs. The great thing about embroidery is that you can change the color of the thread for different garments at no charge so if you wanted black hats with a white logo and white hats with a black one, it is very simple to do. Ideal for company apparel or team uniforms.
4. Heat Transfer
The heat transfer method uses a heat press machine created specifically to design custom t-shirts. The machine keeps constant heat and lets you adjust the temperature and pressure according to the fabric you are printing on. The prints from the machine give off a more shiny, glossy look and hold heat well over time. Heat transfer works the best for vinyl lettering and is the ideal choice for printing names and number on sports jerseys.
Have a Design in Mind? Contact ArtRageous Apparel for Your Printing Needs Today!
If you want to design custom t-shirts with high-quality, vibrant prints, you are on the right track. As your next step, you need to get in touch with
ArtRageous Apparel
. We provide
Direct to Garment
,
screen printing
, embroidery, and all sorts of custom fabric printing solutions in McHenry County, IL, Lake County, IL, Southeastern WI, and Northern Cook County, IL. Call us today at (847) 986-6212 for more information or visit our office in 1860 N IL Rte 83, Suite 123, Grayslake, IL 60030 for consultation and order placement.